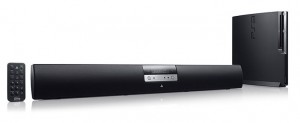 If you already have yourself a sweet little surround sound setup for your PS3, then this post isn't really for you. If, however, you just can't stand your TV's flat sound when gaming or watching a flick then it might interest you. 
My wife and I picked up the PS3 Sound Bar as a little Christmas gift to ourselves. Obviously, our ideal setup would be a nice 7.1 surround system. Doesn't have to be top of the line but not a Don Quixote special, either, but were not at that point yet. I've got studio headphones, but that's hardly a good way to enjoy a movie together and, besides, I don't have a headphone amp. And without a ton of extra Fukazawas at our immediate disposal, this seemed like decent option. We bumped into this little guy at Yodobashi and we decided to pick it up for roughly ¥17,000 (with 10% points) after watching it with the GT5 demo.
First impressions? Not bad at all.
It's true plug and play, so it was out of the box, set up and blaring in about five minutes. It's not super loud, so if you need your games/movies as loud as freakin' possible then you're going to be disappointed but for a small home or apartment it does quite well. The built-in sub is warm and heavy and its volume can be controlled independently (in fact, all of the volume like treble, bass, mid, digital pre-sets and even game dialog can be customized with the remote). I pretty much use the Dynamic setting for everything.
Here's some of the propaganda:
PS3 Playstation Sound Bar is the first single speaker audio solution designed specifically for the PlayStation®3 system. Proprietary technology creates the equivalent of a home theater system bringing to life sounds not normally audible with conventional acoustic systems. Four sound fields and two sound modes enhance the overall gaming experience.
All-in-one surround sound speaker system optimized for the PlayStation®3 system

Proprietary S-Force technology creates the equivalent of five-speaker surround sound

Four sound fields and two sound modes designed specifically for gaming

2.1 channels, integrated sub-woofer

Matches the design of the PlayStation®3 system
The spatial audio qualities are good, as well. It's a 2.1 surround system, so don't get your panties in a knot if objects don't sound like they are whizzing past your head (a la Transformers—a terrible movie but awesome for testing surround sound, that and U2?s Rattle & Hum).
It hooks in through an included optical cable and you can also port your TV into it through an analogue input.
I've read complaints about playing music through it, but to my ears the music sounds fine once you adjust the settings (bump up the sub to 3 and then bump bass and treble each up to your liking). I play music over the PS3 as room or background music, not to listen to with my studio phones so I'm not really sure why the nitpicking in the blogosphere. I definitely will try it as a new monitor option, though, for demos created in the studio and see how it goes (Sony MDR 900 cans, some $150 Roland digital shelf speakers, a friends' Mackies, and the system at Rock Bar Mother in Shinjuku are my go-to mix testers at the mo').
Speaking of headphones, a glaring oversight on the sound bar is the distinct lack of a headphone jack. Seems to sorta make sense to me to have one, but I'm also kind of shocked that the PS3 itself doesn't have a headphone jack. I'm pretty new to this whole gaming console experience, though, so what do I know.
One feature it has that I don't really use is the Night mode. Basically, for those who have close neighbors, sleeping wives/kids etc. you can hit Night mode and it automatically compresses the sound so that sudden explosions, firefights don't peak out and wake or scare the shit outta people. I can see its use, but I don't really use it (or maybe I just don't give a crap about others…)
Anyway, just thought I'd share. For the price and ease of use I certainly have no problems recommending this to others who want audio for their PS3 that sounds better than their TV speakers but aren't in the market for a big ass system.